SOMMER SCHNEIDER, WEST BEND EAST HIGH SCHOOL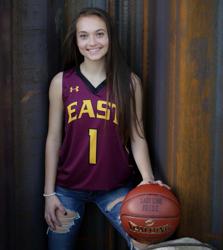 I was lucky enough to get a response from West Bend East head Girls' Basketball coach, Tiffany Ziegler.
– reported by Maddox Durst
What is the name of your Glue Girl?
Sommer Schneider
How does your Glue Girl help your team succeed? What little things does she do?
Our team can always count on Sommer for support through our ups and downs. Sommer is not our top scorer or top rebounder but she will be your number one teammate all the time. She comes to practice with a smile on her face and knows her role as a teammate and player on our team. Sommer is the first one on the bench to make sure she's bringing the energy and reminds girls of what the expectations are within the program. Sommer never complains and just shows up.
Bio:
Sommer Schneider is a 5'4 senior guard, #1, and a second year player for the West Bend East Suns. She is described by Coach Ziegler as, "Outgoing, sociable, energetic, and talkative." In addition to basketball, Sommer also participates on the West Bend East track team. As a senior, Sommer has decided to major in Biology in the Pre Medical field. You can catch Sommer and the Suns live after winter break on Tuesday, January 8th, when they travel to Nicolet to face the Knights. Once again, thank you to Coach Ziegler for responding to the questionnaire.
You can see the full write up on www.northshoreconference.com